Christos Kotsinis
Portfolio, Bio, Facebook, Instagram, Contact, Items
1. KOTSINIS BY KOTSIKAS
An extremely detailed digital illustration of me by my closest friend Vasilis Kotsikas, co-owner at Keda Press kedapress.bigcartel.com
2. JOY, 2021
After months of lockdown and social distancing as a result of COVID–19, consumers have been forced to shop differently. Panic buying took hold, with retailers around the world forced to limit the number of purchases of high-demand items. Is the Joy of Consumerism getting past or we are feeling a happier spending just 2 hours for a short-term shopping? A 70 to 100cm. poster soon to be silkscreened. Check availability at Items.
3. YOUR MOM IS GETTING YOU HORNY, 2015 29.7 to 21cm., Ink on paper.
An illustration made for personal pleasure referring to the attachment of sons to their mothers
4. A HEAD INTO A HEAD, INTO A HEAD, INTO A HEAD, 2014
21 to 29,7cm. Oil pastel on paper.
5. DEATH IS NOT JUSTICE. A 70 to 100cm. poster, 2010, for www.posterfortomorrow.org
Our 2010 project asked for the universal abolition of the death penalty. For us it's simple. The death penalty is a violation of human rights. Article 5 of the Universal Declaration of Human Rights states: "No one shall be subjected to torture or to cruel, inhuman or degrading treatment or punishment." How does that fit with beheading, stoning, hanging, lethally injecting or shooting someone? The problem is that there's no going back on a death sentence. And in a world where every judicial system makes mistakes, it's inevitable that innocent people will be executed. Which is simply not acceptable. More than two thirds of countries in the world agree, and have banned executions. Sadly, shamefully, 58 still persist in killing people in the name of "justice." In 2009, countries with the highest number of executions were Iran (with at least 388 executions), Iraq (at least 120), Saudi Arabia (at least 69), and the United States (52). In China information regarding the death penalty remains a secret, but estimates show that China executes more people than the rest of the world combined. But there is hope – the number of people being executed around the world appears to be declining. And in December 2010 the United Nations General Assembly has adopted a third resolution calling for a universal moratorium on the use of the death penalty. The result is that the Secretary-General is requested to report to the General Assembly at its sixty-seventh session on the implementation of this third resolution. So while this isn't the perfect result we were hoping for, it represents significant progress. We can now see the beginnings of a genuine global movement towards abolition—and that can only be a good thing. We'd like to congratulate everyone who was worked towards this together with us.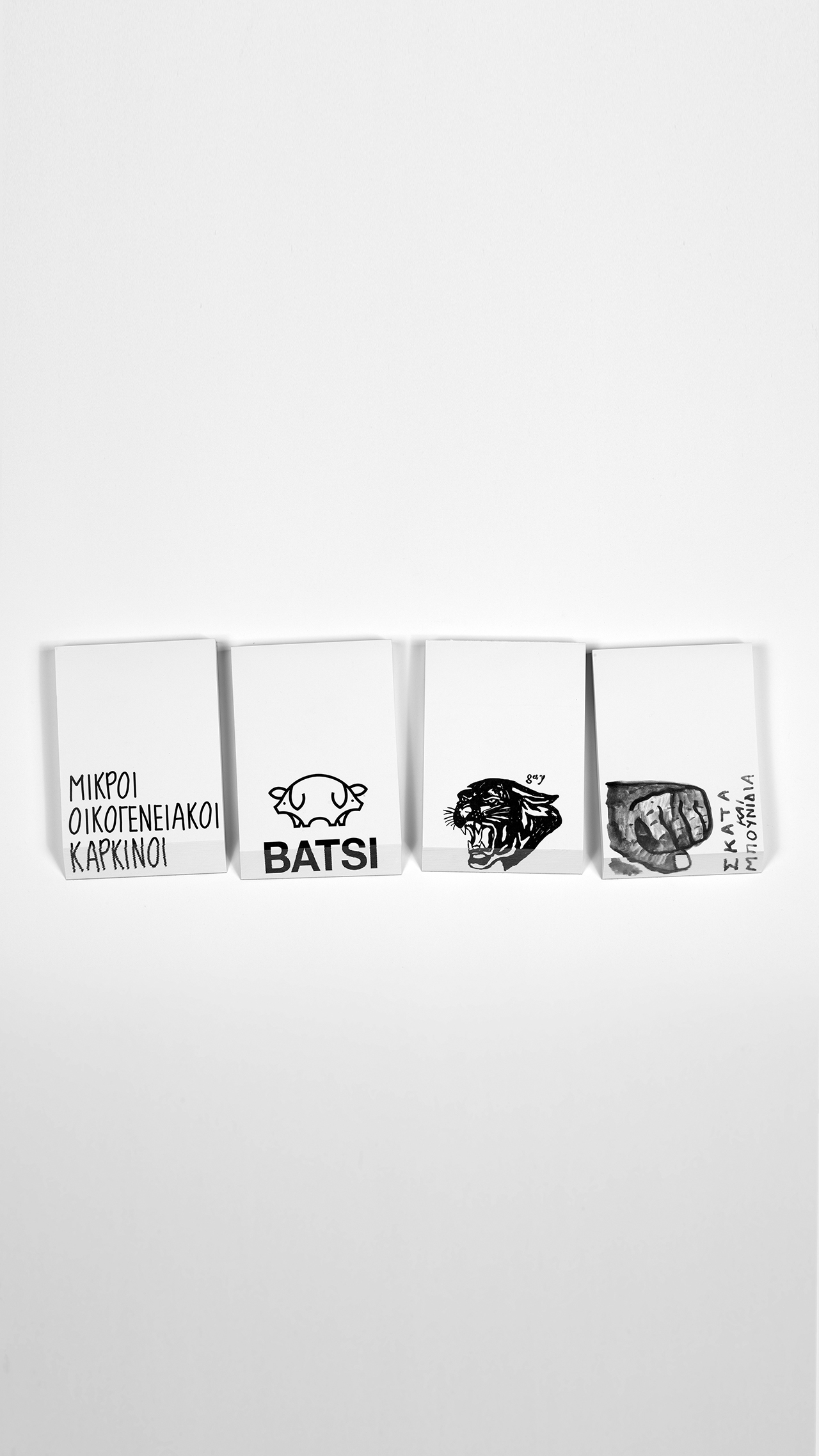 6. SUPPORT YOUR LOCAL IRONY® giving just 6 Euros, 2021
A series of 4 digitally printed black & numbered to 15 notepads. Cut out to 45° by sermaidis-press.gr. Check availability at Items.
Subvertising (a portmanteau of subvert and advertising) is the practice of making spoofs or parodies of corporate and political advertisements. Subvertisements are anti-ads that deflect advertising's attempts to turn the people's attention in a given direction. According to author Naomi Klein, subvertising offers a way of speaking back to advertising, 'forcing a dialogue where before there was only a declaration.'They may take the form of a new image or an alteration to an existing image or icon, often in a satirical manner. A subvertisement can also be referred to as a meme hack and can be a part of social hacking, billboard hacking or culture jamming. According to Adbusters, a Canadian magazine and a proponent of counter-culture and subvertising, "A well-produced 'subvert' mimics the look and feel of the targeted ad, promoting the classic 'double-take' as viewers suddenly realize they have been duped. Subverts create cognitive dissonance, with the apparent aim of cutting through the 'hype and glitz of our mediated reality' to reveal a 'deeper truth within'. Subvertising is also a type of advertising hijacking (détournement publicité), where détournement techniques developed in the 1950s by the French Letterist International and later used by the better-known Situationist International have been used as a contemporary critical form to re-route advertising messages.
7. CANCER PATIENT, 2012
A 70 to 100cm. hand drawn poster. Check availability at Items.
8. REACH PEOPLE business cards, 2010, 3.5 to 5.5cm
The Reach People logotype, designed by Manos Venieris, on behalf of our beloved common project called Reach People. Hand printed and zigzag hand cut on cardboard.
9. JESUSES ARE DANCING SYRTAKI,
Ink on paper, 2010.
10. FEVER OF THE ANCIENT, 2014, 13.5 to 18.5cm
A catalogue of an exhibition, printed on newspaper 45gsm. with PANTONE Reflex blue. It was a part of the whole visual identity of an exhibition, which was taken place in Athens, curated by Evangelia Ledaki and printed by kostopoulosprinting.gr
11. PURE PRINTS FOR KIDS, 2020
Logo and visual identity for a printing workshop for kids, organized by the 5th elementary school of Halandri, Athens, Greece. A funny transformation of the AGNO ICE CREAM iconic logo. I was a tutor and print maker of linocut prints to kids. So proud of it.
12. APRIL, GRYLIS, 2017
This angry dog stands for GRYLIS means fussy, but mainly stands for April month in the Greek customs. It is a part of a collaborative project with bend.gr for the monthly calendar of kontorousis.gr, back in 2017.
13. KOTSINIS, typical red jockey cap, 2021, 16 to 23.5cm
A typical red jockey cap, as a part of my personal branding, embroidered by madebysir.com. Check availability at Items.
14. THE ENZYME, 2018
This is a cover of a Greek political niche 6-month publication, based on the Greek polytonic alphabet. Greek capital letters stand for the numbering of each edition. Printed through XEROX on yellowish matte paper.
15. INHABITANTS OF THE FOREST, 2016
It was a very hot summer day. Bear, thorny, hawk and marmot carried in their common nest many colored wild peas, a species rare for the area. They sat around the black fire, cleaned them and kept their colorful and elastic skins aside. The fruits they gathered are kept for the two unique days of summer when all the creatures of the forest will gather to see them cook the famous magic pea black with which they will print on the skins the annual family album of all the hidden creatures of Vovousa forest. Those who did not come, lost the ultimate experience in picking fruit.
This a collaborative workshop with bend.gr, taken place in Vovousa, Epirus, Greece in 2016. Teaching the kids how to print and create imaginary creatures. In 2017, the jury of the Greek Graphic Design & Illustration Awards awarded us with a prize in the Self-publication category for "Posters for friends" came out and hand-printed from the festival.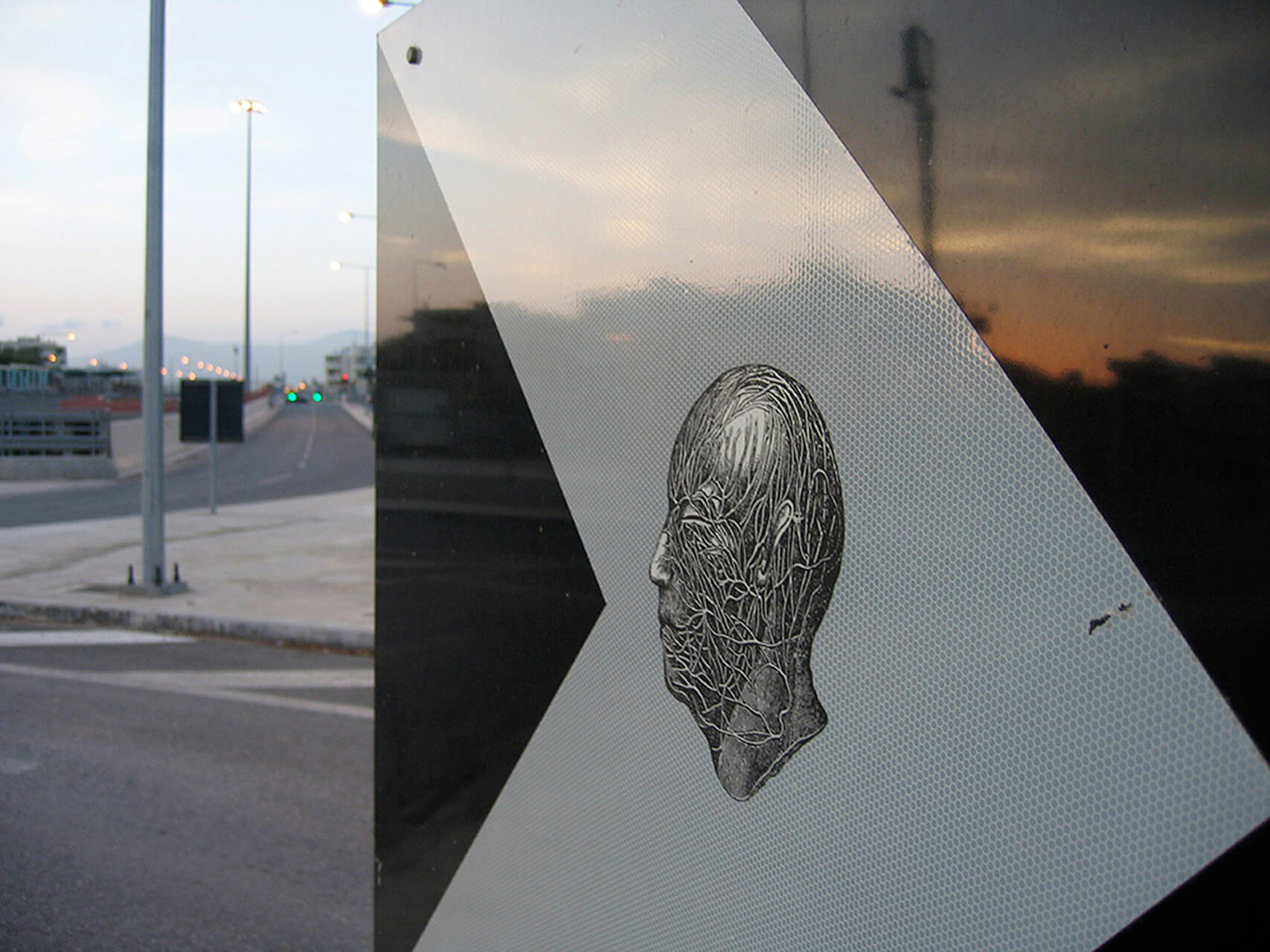 16. NERVOUS, 2006
A strange sticker, that causes nervousness.
17. UNTITLED, 2019
Distorted in an old scanner, photocopies of linocut prints of unknown artists, lead to this poster. Check availability at Items.
18. DIARRHEIA IN THEOPHANY, 2012. Aquarelle on paper 10 to 15cm.
19. 1984, 2020 This is my favorite but rejected cover of an already released cover of the well-known author George Orwell and his novel 1984. It was released by iolcos.gr.
20. MONA PERSSON, 2019, 8.5 to 5.5cm
A business card for a Swedish-born guide, who lives and works under Parthenon, Athens, Greece, printed by Kontoes printing house, in Athens, Greece, too.
21. RADICAL READING, 2014
A visual identity and letterhead proposals for Radical Reading, an Athens-based curatorial project founded by Evangelia Ledaki and petrosmoris.com. It ran between 2014 and 2016.
22. PLURIVERSATILITY, 2020, for bowb.org
Markos Karellas & me, designed an embroidery —a multi-layered texture of an analog and digital mosaic— that includes iconic elements.
Art Pluriverse is a community science series for arts and culture that envisions a boundary spanning approach to intangible cultural heritage (ICH) through art and open knowledge. Art Pluriverse is inspired by the concept of pluriversality as expressed in the recent publication "Pluriverse: A Post-Development Dictionary" (Kothari et al., 2019), where traditional knowledge is extended to eco-cultural relations of locality, biocultural memory and grassroots collectivity. The first edition focuses on textiles and their communities of practice, resulting in research-based artworks and the development of digital community archives that allow communities to "take ownership of their own historical representations as a means of empowerment" (Caswell et al., 2018).
23. I HOLD THE FUTURE OF MY COUNTRY IN MY HANDS, Aquarelle on paper, 2016, 21 to 29.7cm.
24. UN PASEO POR EL BOSQUE, 2017, 70 to 100cm
A poster for an exhibition of the jewellery artist, Euyenia Tzortzi.
25. NO SHY, 2006
A non horny, girly figure
26. A poster for documenta14.de. WELCOMING THE SUPERIORS, 2017, 70 to 100cm, photocopy collage and actual placement of the logo
DOCUMENTA 14 "LEARNING FROM ATHENS" is the fourteenth edition of the Documenta art exhibition held every 5 years in Kassel, Germany. It was held in 2017, for the first time in two cities, Kassel and Athens. The exhibition was inaugurated on April 8, 2017 in Athens and on June 10, 2017 in Kassel. Works by 160 live artists were exhibited in both cities over 163 days.
27. PRINT ON GLASS, olive oil gift miniatures, 2019
These were some olive oil bottle miniatures, illustrated with black trippy psychedelic aesthetic graphics. From minimum lines to bigger, PRINT ON GLASS needed to prove how excellent these lines may be printed over the slippery glass surface.
28. KALMA lavender, gift box, 2019
A totally handcrafted gift box for Kalma lavender. It was printed piece by piece, with black colour. Initially the visual key illustration transformed into a big linocut, then printed by hand.
29. REGISTRATION BOOKLET, 2006, 13 to 19cmA notebook based on the Greek public services aesthetics. Printed by kontorousis.gr and used as a stationery material. Designed, when I was an employee, as a junior graphic designer, to my tutors https://mnpdesign.gr.
---
You've reached the end of the page. Please, come again later because I update the content every now and then with fresh images. Thank you for visiting the site in the first place.
---
Legal Shit:
Regarding the Privacy Policy. Obviously I don't collect any data from the visitors. Probably the hosting provider is collecting data anonymously for the statistics, but who cares.
The CMS is adding Cookies to tell who is logged in the control panel. But again, only the administrator logs in to maintain the system. So, I hope we are all ok with that.